ID: 112604-CR-MN
Jason Kraley & Mike Williams: "Touched"
(Official US Release)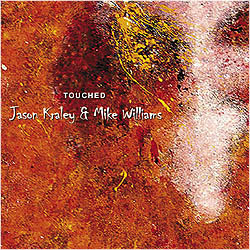 (Compression Records Cleveland/MadNote Productions)
56 Minutes - CD - December 2004 - $10 US + Shipping
Equity (12:44)
Soul-Searching (9:25)
Your Gentle Caress (10:44)
Per Il Nonno (13:40)
Impermanence (9:41)

To hear excerpts from the CD, visit CRC Music or MadNote Productions.


---
Do you own any recording (cassette, compact disc or video) by Still Inertia (or the pre-2001 name "Inertia") published by Compression Records Cleveland and don't see it in the Discography? Please email a submission to discography@stillinertia.com and give the full ID CODE, name of the item, and if you feel like sharing anything more, then feel free to include track listings or even a GIF or JPG image of the cover and you'll get bonus Karma points with Still Inertia. And that's a good thing...

---
Still Inertia (in association with CRC Music) trusts and accepts all major credit cards, eCheck and PayPal transactions submitted online via PayPal's shopping cart services. Currently, online transactions are for US currency and national shipment. Our shipping is a flat rate of $5 to compensate for the wonderfully ever-rising costs of the United States Postal Service. We ship everything 2-3 Day Priority Mail with a Tracking Confirmation number. If you are outside of the US, and would still like to make an online purchase, please contact our International PurchasingHandling Department. CRC Music will generate special shipping price pages to assist, customize and expand your online shopping cart experience so that Still Inertia can deliver your goods globally proper.


---
SHIPPING: Shipping is a flat rate of $5 on everything totalling $5 or more. We ship everything 2-3 Day Priority United States Postal Service Mail with a Tracking Confirmation number. Anything under $5 will carry a $2.50 shipping charge and sent via First Class United Postal Service Mail with a Tracking Confirmation number.
---
If you would like to make a purchase with a check or money order the old fashioned way, no worries... There is, of course, the time period required for a bank check to clear before shipping occurs. Please contact Purchasing directly for CRC Music's mailing address. As always, Still Inertia appreciates your support and honors your appreciation.